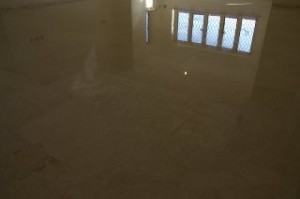 We have recently completed a large domestic project, having laid approximately 400m2 of Marble tiles supplied directly by the client.  They were laid with 2mm joints, and grouted using Ardex grout, suitable for grinding & polishing.  The floor was then ground down using heavy duty diamond grinding discs, taking the floor to a rough 60 grit finish, rendering completely flat, including the joints.  The floor was then bought back to a shine by using different grades of diamond, and finished with an acid based marble polishing compound.
The finished result is a mirror finish marble floor, the grout joints being as smooth as the marble itself.
We have invested in the latest diamond grinding machinery, which incorporates a three head planetery drive system.  All edges that cannot be reached by machine are completed by hand machine.